20% discount off first purchase! Use the new-user coupon code at the checkout!
Visual Learning Resources
Our education and learning support resources for kids make learning & teaching fun.
Whether home-schooling or schooling your children, teachers and parents with children in primary & secondary schools will love these resources.
They are fun to use and extremely intuitive. Covering Numeracy (maths), Literacy (English), Time & Money, all the most important educational concepts are covered.
Visually intuitive designs will allow your child or student to learn faster and, more importantly, to retain what they learn.
Reinforcing Learning Concepts

Kids learn the best when they don't realise they are learning.
Our education resources are designed to go for that light-bulb moment by conveying the maximum teaching punch with the minimum effort to help ensure that the learning takes place whether they realise it or not.
Our extensive range of printable worksheets cover a variety of topics such as literacy, numeracy, time, money, visual perception and hand-eye coordination – many of which are designed specifically to complement the visual learning resources in our portfolio.
Making learning fun
By using intuitive graphics and visual learning techniques, teaching using our resources is very easy.
Whether it be the high quality learning charts for learning reading, writing or working with numbers, or the thousands of downloadable and printable worksheets, learning using these resources will be fun for both student & teacher.
If you are purchasing for a school, please contact us to discuss a school-wide site-licenses that include discs full of printable worksheets for all your teaching staff in addition to significant volume discounts.
Special needs children as well as neuro-typical children alike will benefit greatly from these resources. Designed to convey the maximum amount of information with the minimum amount of interaction, these resources do not require much explanation at all, which makes them particularly easy to absorb by children with social challenges.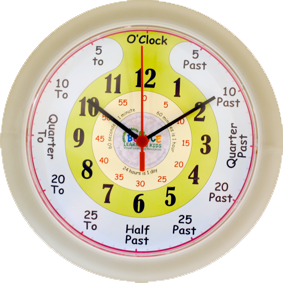 Revolutionary Learn To Tell The Time Clock
Not only will your kids learn how to tell the time in record time, they will have fun doing so too with this revolutionary new wall clock.
See also the complementary time work-sheets (series 1, series 2, series 3, series 4 & series 5) that are designed to work with this unique clock. Together, they provide for a complete solution to learning how to tell the time.
If you have any ideas for new products or suggestions on how to make any of our existing products better, we'd love to hear from you. You can e-mail us directly.